Hey everyone, I finally got paid yesterday!!! Hurray, I'm not broke any more, so I finally got a light bulb for my bathroom (which had been out since Sunday). I can't believe tomorrow is February 1! Already January 2013 has come and gone. Crazy. And only 7 more months (and a week) until I
turn 25
... which is REALLY scary!
At the moment, I'm planning a trip with friends to see the D-day beaches and surrounding area (Caen/Bayeux) in Lower Normandy next weekend, which I'm super excited about. 8 of us are driving down on Friday and coming back Sunday. This is one of the BIG things I wanted to see while I was in France, so I'm glad I'm getting the opportunity to do it. We've officially booked the hotel in Bayeux as of yesterday, and it is a really reasonable price. We got 2 4-person rooms, and it's only going to be €22 a person for both nights!
I'm also officially all booked for Italy; I got my last train ticket today, finally. I'm still hoping I'll get my housing assistance (CAF) money before I go to Italy, so I don't have to take money out of my US account for the trip, but it doesn't look very likely any more. It's only because they're completely dim and didn't understand that I have two months' pay on one pay slip and they won't answer the phone when we try to call and explain that to them! I guess I am just going to have to mail them another copy and a letter explaining that, then maybe they'll get it through their thick heads. Hopefully then I'll finally get the payments!
I've had some problems with my working holiday plans in New Zealand, but no worries, I'm still going! It was all due to the fact that I have to get a chest x-ray by a special panel doctor in Paris before I go (Thanks, Korea, for your high risk of TB). Of course it has to be a new one by a special doctor, even though I just had a chest x-ray done in October when I arrived in France.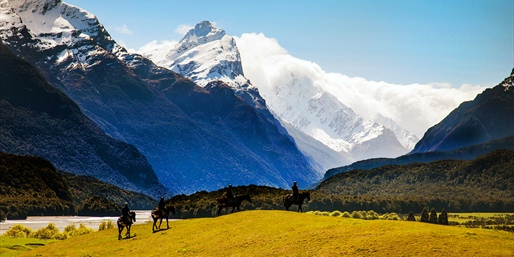 I'm still coming, Middle Earth!
The NZ immigration office wanted me to turn this in less than 2 weeks after I applied, but my appointment isn't until the day before I go to Italy, and they wouldn't give me an extension. So, because I didn't want to have to make an extra trip to Paris just for this (which would be an extra €30 out of my pocket for the train in addition to the doctor's visit itself. I'm going to Paris the day before my flight to Italy anyway, so that was the perfect time for the appointment); I had to rescind my application for now. But, I'm going to re-apply when I have my x-ray. Luckily the visa doesn't cost anything, so I don't have to worry about that.
Then there should be no more holds on getting the visa... At least I hope not! This was really frustrating for me, because I'd really like to buy a plane ticket but of course I can't risk that while not having the visa yet. I just hope the plane ticket prices will still be the same in a few weeks! Right now they're quite reasonable, and I'd hate to pay hundreds more just because of this stupid visa delay.
I might also be able to get a day in Kuala Lumpur on the way with certain tickets, which would be awesome, and it would break up the 24 hour total flying time too. I'd love to see the Petronas Towers (they were the tallest buildings in the world until 2004).
So that's all! See you next time!
xx Kaylin
(Picture 1-
travelzoo.com
; Picture 2- wikipedia.org)